If you live in the Northern Virginia area and have been witness to the storms we have in Spring, you have no doubt seen some trees come down. If you were lucky enough to not have yours damaged, then it was more than likely a close neighbor. The immediate effects of these fallen trees was a widespread loss of power for 2-7 days, depending on where you lived, and some damaged to personal property. This leave the question, who is to blame? Well since this directly affects the HOA Management industry we figured we'd chime in...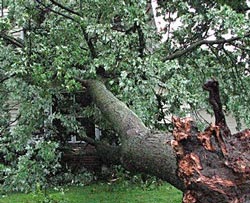 The underlying theme here, as with most liability cases, is negligence. The general rule is that if your tree falls on your neighbor's property, even if it causes injury to a person, or damage to property, you will not be liable so long as you are not negligent. Furthermore, if the tree fell during a severe storm like we have had, one can claim that this was an "An Act of God". But what constitutes negligence?
The answer depends on all of the facts. Did the tree owner have any knowledge that the tree was a potential hazard? Should the tree owner have noticed that the tree was not in good health due to dead limbs? Did your neighbor complain about the safety of your tree, and yet you took no action? If the answer is yes to any of the proceeding questions questions then you could be potentially negligent in maintaining your property and would be responsible for the repair and clean up to your neighbors property.
The courts have determined that, in so many words, a healthy tree does not ordinarily fall of its own weight without some exterior force being directed against it and that land owners have a duty to periodically inspect trees on their property to determine whether they are safe to continue to stand.
In conclusion, the overriding lesson here is for all of us to be responsible homeowners. We don't need the courts to tell us this. We can't control storms, or other Acts of God, but we can do what is right. That means taking all steps necessary to make sure your home is safe and that you are doing what is in your power to make sure your neighbors is too!